Announcements
Now Accepting Applications for 2018 AFP Mentoring Program!
For Both New and Advanced Professionals

Most of us didn't grow up dreaming of being fundraisers. Or study fundraising in college. When you ask a fundraising professional how they got into the field, more often than not, you'll hear some variation of, "Well…I just fell into it!"

So, it makes sense that most fundraising professionals learn on the job. With this in mind, 23 years ago, the Greater Arizona Chapter developed the Mentoring Program for professionals new to the field. Now adopted as a model by AFP International, this year-long program helps gives fundraising professionals the foundation they need for a successful career. This program is a good fit for professionals that are newer to the field (1-5 years) – whether a young professional or making a mid-career change!

Click here for more information.
---

AFP New Membership Discount

APF is offering a $50 off membership for new members only in the professional and associate categories from now until November 30th. Join online using the discount code NPD2017 or click here to download a coupon.
---
Association of Fundraising Professionals – Greater Arizona Chapter
2018 Board Slate

Board Leadership

President: Chris Sar, CFRE
Past President: Adele Dietrich, CFRE
President Elect: Liz Kaplan
Treasurer: Rebecca Zandarski
Secretary: Sue Gifford

Committee Chairs

Advancement: Brad Harris
Education: Lisa Evans, CFRE
Diversity: Jerry Diaz, CFRE
Career Services: Darcy Hill
Membership: Laine Seaton, CFRE
Professional Mentoring Program: Laurel Coil
Philanthropy Day: Tamara Bohannon
Communications: Robert Raygoza
Sponsorship: Joe Dulin, CFRE
Member at Large: Torrie Taj, CFRE
As a reminder, the 2018 Board Slate is voted on as a whole.  You may accept, reject or abstain. No write-ins will be accepted. This week you'll be receiving an online ballot email from Ballotbin.com which will allow you to cast your vote.  Please vote by Friday, November 17, 2017.
---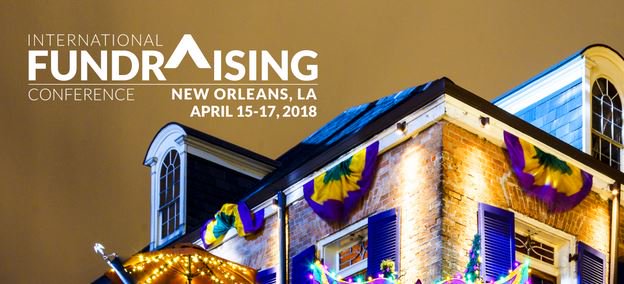 EARLY-BIRD REGISTRATION
Big things are coming to the Big Easy in 2018 — and not just the city's 300th anniversary! We're talking the world's biggest and baddest conference for professional fundraisers.

Early-bird registration ends November 1st.  Click here for more information.
---
AFP Greater Arizona Speaker's Bureau

2017 is an exciting year for your local AFP Chapter! We know that we have a resource beyond compare in our membership. Whether you consider yourself "experienced," "senior," or "seasoned," you have so much to offer! You are invited to add your name and expertise to our new AFP Greater Arizona Chapter Speaker's Bureau.

For as long as I have been a member of an AFP chapter, there has been the challenge of how to serve professionals who, like you, have been in the field for more than 10 years. Historically, hosting educational luncheons with a relevant topic has not worked, because most of you have "been there, done that."

AFP Greater Arizona Chapter is exploring ways to keep you engaged with your colleagues, with AFP, and with those professionals who are newer to this honorable work we do. I believe it is more than coincidence that you, this incredible group of professionals, can also be part of the 5 pillars of AFP International's Strategic Plan. They are:
Promote inclusion and expand influence
Lead social change
Advance advocacy, policy, and ethics
Provide relevant quality education
Strengthen AFP capacities and connectivity
You are invited to share your area of expertise with us, whether it is fund development, leadership, or advocacy.

Click here to learn more and share.
---
LIKE our NEW FACEBOOK PAGE! www.facebook.com/afpgreateraz/

We want to hear from YOU!  Share your insights on current fundraising news or your experiences in fundraising. Send your articles to the Communications Committee at communications@afpaz.org
---
The AFP Ethics Assessment Inventory™ (EAI) Tool

The Association of Fundraising Professionals (AFP) is proud to launch its first-ever self-assessment tool. The AFP Ethics Assessment Inventory™ (EAI) is a new benefit of AFP membership, available online for voluntary use. Test your ethics now!